As summer approaches, and some sort of quarantine continues, there's been plenty of talk of productivity and the joy of creating "schedules" to maximize our (creative) time.
But most of our lives look pretty weird these days. The days aren't regular, but they're not vacation, either. Many of our imposed schedules from the outside are gone, and we are finding ourselves floating in an immense and frightening freedom.
So the question is: how can we have both accountability and kindness for ourselves?
Now that my semester is ending, I've been asking myself this question a lot. I decided to do a little investigating into my stack of journals to see what my daily schedule looked like last summer when I was (both highly productive and) on sabbatical.
And that's when I discovered something important: I didn't have a schedule. I had a routine.
I woke between 7-10 am and spent 1-2 hours in bed reading or catching up on social media (but nothing "important").
I got dressed and walked to the coffee shop and began to journal for the next 1-2 hours, depending on how quickly (or slowly) inspiration hit.
I went home, ate lunch, and worked for 2-3 hours. This part of the routine worked especially well because the afternoon hours were the hottest.
I finished working for the day and went exploring, walking, swimming, dinner, etc.
I realize this is an idealized routine, but the important takeaway is that because this was a routine and not a schedule, there were no set-in-stone times. I did NOT set the alarm to wake up at a specific time or say "I have to be at the coffee shop by noon" or whatever. Instead, the looseness of this routine vs a by-the-clock schedule meant that everything got done every day—but the daily particulars were flexible.
We all have many routines already. Consider: many of us wake up and then drink coffee. One thing naturally follows the other—we wake up, we make coffee, we drink it. I have never set my alarm to make sure I don't miss drinking coffee–coffee is part of the routine.
Or: I read every night in bed before I go to sleep. Sometimes I read for an hour. Sometimes I read for 15 minutes. Sometimes it begins at 10 pm. Sometimes it begins at 11 or 8. I never have to schedule reading time because it always happens last in my daily routine.
Not looking at the clock works for me. Letting one thing naturally follow the other in a predictable sequence works for me. Creative work needs creative breathing room. And yes, it also needs discipline. But when we make schedules we can become militaristic—we beat ourselves up, lording the clock and the whip to do those 30 mins of yoga/meditation/writing by a certain time instead of honoring that we are dynamic animals in an ever-changing daily flow.
That's why I think a routine is truly the sweet spot in the middle. Think of it as the "sliding scale" schedule, a sequence of events. Rather than "I must be at my desk by 10 am", it can be: "I must go to my desk after coffee."
That said, some things must be scheduled. Work, classes, events have a starting time that we may have to work around. But for all the rest of the time, especially with summer birthing itself and many of us yearning for more productivity in this strange, in-between time, I encourage you to get investigative: throw out the clock, listen to your your natural rhythm, and discover your perfect routine. When in the day are you the most productive? When do you want to rest? Do you wake up ready to write? Or do you like to wake up slowly? Do you like to take a nap? Stay up late? Take a walk in the evening or after working? See if you can create a routine that really supports that flow this season, rather than imposing a schedule that may be counter to what you (and your creativity) really need.
Remember: Even the bunnies stay out later in the spring, regardless of what the clock says.
Here's to your perfect routine!
(and check out some of the surprising routines of creative people below)
xo
Nancy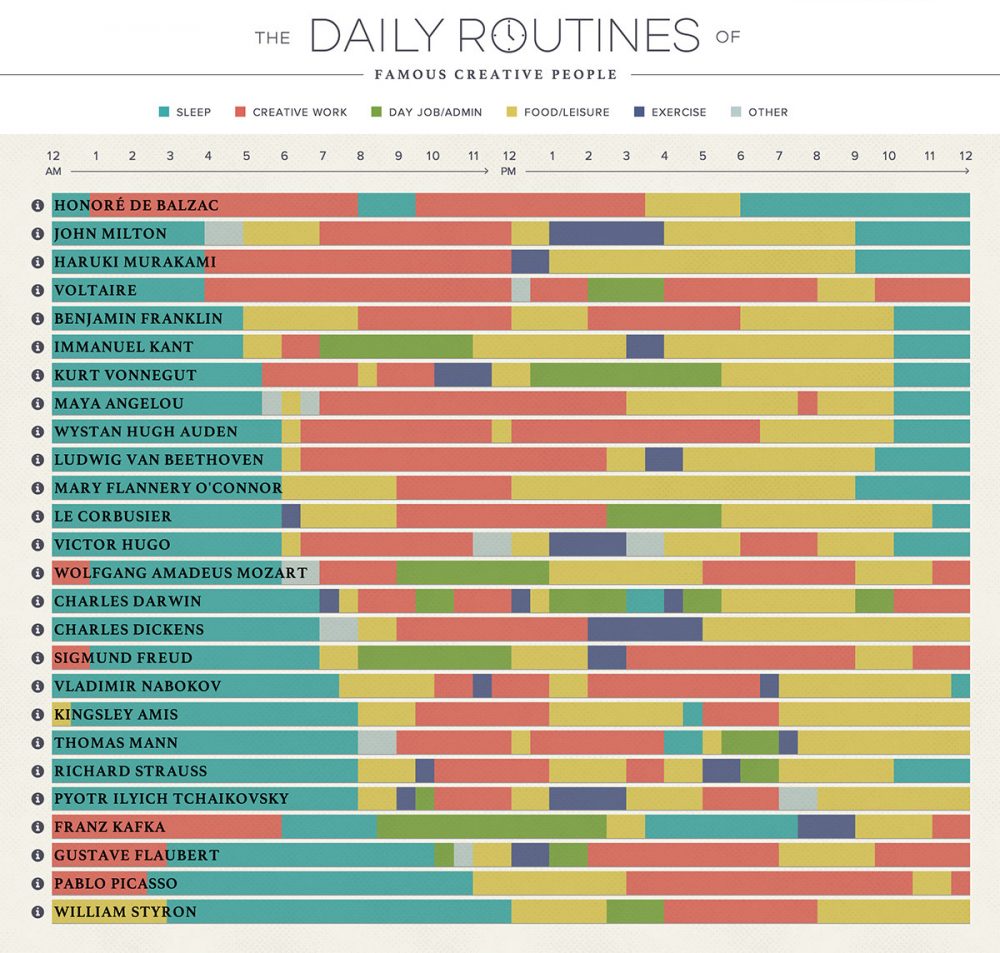 ___________________________________________________________
Let's Play a Game:

Cancelled

or

Not

?
1. Writing Wild in the Blue Zone Retreat to Costa Rica has been….
Cancelled/Rescheduled!
The new dates are May 8-14, 2021. 
The French Connection Retreat to France has been…..
Cancelled/Rescheduled!
The new dates are June 5-11, 2021. 
The High Altitude Inspiration Retreat to Colorado has been…..
Cancelled.
Shadowcliff has closed the venue to groups for now.
The June release of Going Short: An Invitation to Flash Fiction from Ad Hoc Press has been….
Postponed!
This will likely come out in early 2021–stay tuned for a new release date. 
Workshops: Not Cancelled!
In honor of my delayed book release I will be running a fun, 5-day "Going Short" Writing Flash Fiction (with preview chapters from the book) workshop from June 22-26 for those of you who want to get your pens moving. Registration opens soon.
And I'll be running another Flash Flood: Write a Flash Novel course again in July.  Read testimonials from past participants.
Stay sane out there, everyone!